Welcome to our online shop
buchbindermeister24.de
... Browse and shop around the clock.
This online shop was created to inspire and support your own creativity. Many years of work experience as master bookbinder guaranty you reliable service and qualitative products.
Our extensive product range offers you:
- Bookbinding and Printing supplies
- Industrial and office supplies
- Hobby supplies
- Craft materials
- Point of sale display
and many
more ...
We appreciate your interest and your visit
on the following pages!
News:
Merchandise Rings - now also available with quick lock and hook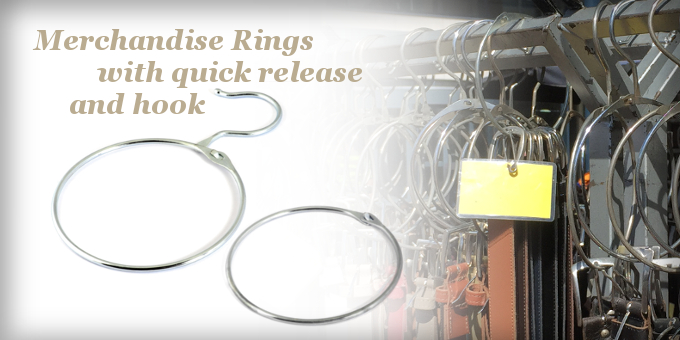 With merchandise rings you can hang different objects such as belts, scarves or bags and present them attractively in business or at home.
Merchandise rings convince with the following characteristics:
- easy hanging of different objects
- easy opening and closing of the rings
Merchandise rings are an often used tool to secure and present goods of every kind. Especially in markets they are often used to attach goods such as belts or bags to the stand. But even in stores such as supermarkets merchandise rings are often used to secure goods of all kinds on shelves or display stands. However not only in the commercial sector the merchandise rings are a practical tool. Even in the private sector they can be used for hanging of for example ties, scarves or belts in the closet or wardrobe.
For some time we offer merchandise rings with a screw lock. The screws lock is holding these merchandise rings particularly strong together and they are therefore usually used to hang heavier items such as wallpaper pattern books. If items are not only hang up but also frequently be removed from the merchandise rings a merchandise ring with quick release is recommended. The quick lock can be opened and closed very easily. The ring holds goods still safe even at higher loads. This protects the merchandise rings from accidental opening.
In addition to the version merchandise rings with screw lock and merchandise rings with quick lock we also offer a merchandise ring with quick lock and hook. The hook allows you to hang the merchandise rings even easier. The version with hooks also has the advantage that the merchandise ring has not to be opened to take it from a suspension.
The merchandise rings with quick lock are available in the sizes 120 and 150 mm. If you need other sizes you can buy the merchandise rings with screw lock or use binding rings.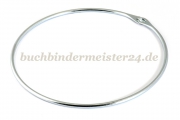 Art.Nr.: 80/150
From 1,20 EUR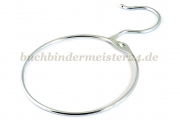 Art.Nr.: 80/120 H
From 1,69 EUR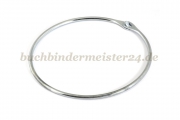 Art.Nr.: 80/120
From 1,10 EUR