Welcome to our online shop
buchbindermeister24.de
... Browse and shop around the clock.
This online shop was created to inspire and support your own creativity. Many years of work experience as master bookbinder guaranty you reliable service and qualitative products.
Our extensive product range offers you:
- Bookbinding and Printing supplies
- Industrial and office supplies
- Hobby supplies
- Craft materials
- Point of sale display
and many
more ...
We appreciate your interest and your visit
on the following pages!
News
Connect and at the same time hang with plastic snap studs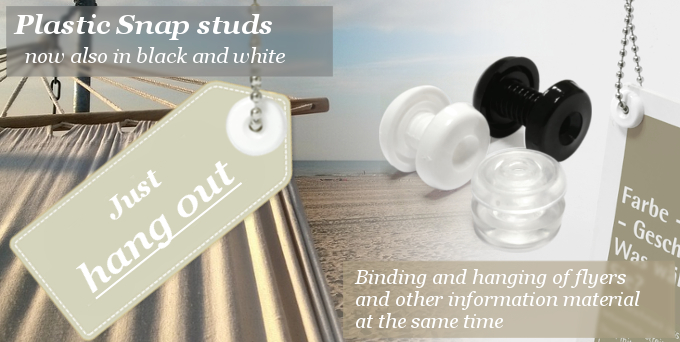 With our plastic snap studs you can easily connect perforated sheets with each other, e.g. to a fan flyer. The capacity of the plastic snap studs is variable. Thus, you can adjust the plastic snap studs exactly to the required capacity. In addition, the plastic snap studs have a center hole compared to normal plastic rivets. As a result, they can be easily hung up with a ball chain. You have your bound information always at hand.
The advantages of our plastic snap studs briefly summarized for you:
- precise binding through variable capacity
- center holes for hanging the bound sheets
With our plastic snap studs, can perforated sheets be easily connected. The two parts (shaft and head part) only have to be pressed together by hand. The special feature compared to other fasteners such as plastic rivets or book screws is the variable capacity of the plastic snap studs. On the shaft part are notches, in which the head part can engage. You can thus compress the plastic snap studs exactly to the required capacity. It does not matter if you only want to connect a few or many pages with each other, the plastic snap studs are always flush. The plastic snap studs are available in three different lengths. In this way prevents the shaft part looks out of the headboard with a very small version. Thus, you always have a clean bond.
Another big advantage of the plastic snap studs is the center hole. This makes it possible to pull a ball chain with 2.4 mm diameter through and then hang the bound pages. In this way, you have often needed information material always at hand. Especially practical in a shop, as well as in business. Moreover, the informational materials can also be firmly connected to a shelf and will not be lost.
| | | |
| --- | --- | --- |
| | | |
| Easy installation by hand | Perfect fit! For little or much contents | Hanging with a ball chain |

Ball chains in different lengths or in meter on rolls are also available in our online shop.