Welcome to our online shop
buchbindermeister24.de
... Browse and shop around the clock.
This online shop was created to inspire and support your own creativity. Many years of work experience as master bookbinder guaranty you reliable service and qualitative products.
Our extensive product range offers you:
- Bookbinding and Printing supplies
- Industrial and office supplies
- Hobby supplies
- Craft materials
- Point of sale display
and many
more ...
We appreciate your interest and your visit
on the following pages!
News
Book corners in copper, antique brass and aluminium look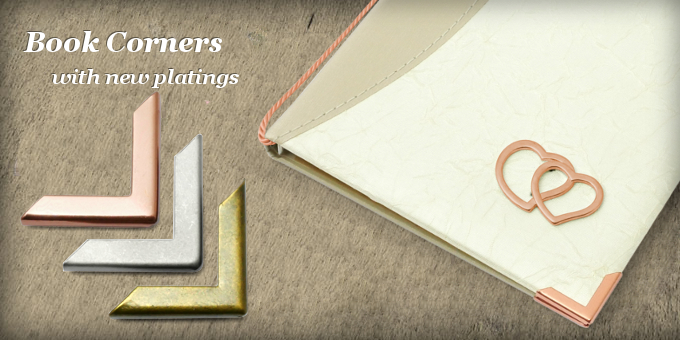 You can now get your book covers in the trend colour copper, in the chic vintage design (antique brass) or with a modern and noble silver matt surface (aluminium look).
Book corners have the following characteristics:
- Protection of edges of books, menus and more
- Optical highlight for every print product
- Different sizes and surfaces
The edges of books are heavily stressed and are therefore vulnerable to damage. By attaching metal book corners to a book these can be reliably protected against damage. Of course not only the corners of a book can be protected by metal book corners. Book corners are also used for menus, schedulers and folders.
Beside the protection function there are also optical aspects for the use of book corners. The metal-made book corners are very high-quality and can therefore enhance the visualization of books and other printed products.
In addition to the well-known surface finishes silver (nickel-plated) and gold (brass plated), you can now also get the book corners in copper, antique brass and silver matt (aluminium look). With these new surfaces you now have even more design options for the protection and / or finishing of your print products.
Installation of book corners
There are different possibilities for the assembly of book corners. Depending on how many book corners are to be attached a different processing method is recommended.
Book corners are pressed together with the help of a tool to attach them on a book.
If you only want to equip a single book with book corners you can also attach the book corners with a hammer or a pliers. This is more convenient with our pliers for book corners (pliers for smaller book corners, pliers for book corners for all sizes) these apply even pressure to the book corner and the pliers thus only have to be set once.
If larger quantities are to be processed it makes sense to consider a hand press or a pneumatic press with a suitable book corner tool. The processing speed can be enormously increased by using a press.