Welcome to our online shop
buchbindermeister24.de
... Browse and shop around the clock.
This online shop was created to inspire and support your own creativity. Many years of work experience as master bookbinder guaranty you reliable service and qualitative products.
Our extensive product range offers you:
- Bookbinding and Printing supplies
- Industrial and office supplies
- Hobby supplies
- Craft materials
- Point of sale display
and many
more ...
We appreciate your interest and your visit
on the following pages!
News
Suspension rail ends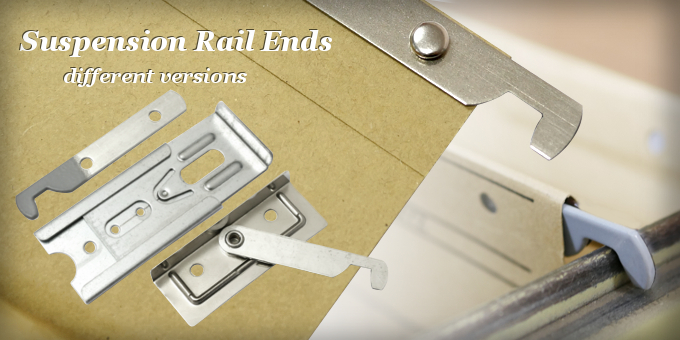 With suspension rail ends you can attach hanging files, folders or lever arch files with a practical suspension, which makes it possible to hang the writing material in a hanging file space saving and easily accessible.

Suspension rail ends offer you the following advantages:

- Simply hang folders and lever arch files

- Store writing material clearly arranged and easily accessible

Hanging files and hanging folders have the great advantage that they can be hung in a hanging file. Thus, the folders / lever arch files are neatly stowed and still at hand.

With our suspension rail ends, you can now easily create hanging folders or hanging lever arch files by yourself or equip existing folders or lever arch files with a suspension.

In addition to the fixed suspension rail ends, you also get foldable suspension rail ends. These are especially handy because if you do not need the hanging, you can simply fold in the ends and the hanging does not interfere with the handling of the folder. For lever arch file or ring binders, we also have a suspension device, which you can slide out in the program.
| | | |
| --- | --- | --- |
| | | |
| Different versions | for folders | and lever arch files |
Mounting the suspension rail ends

The suspension rail ends have rivet holes where they can be riveted. Suitable tubular rivets or rapid rivets are also available in our online shop.

Place the suspension rail ends where you want them to be attached. Now draw the rivet holes. Then punch the marked rivet holes with a punch, a drill or another tool suitable for punching.

Now you can rivet the suspension rail ends with your wallet. When using rapid rivets, you can simply hit the two-piece rivets together with a hammer. However, we recommend the use of our riveting tools, as this preserves the rounded shape of the rivet heads. If larger quantities are to be processed, it is recommended to use a hand press or a pneumatic press with a suitable riveting tool.

Should you decide for the one-piece tubular rivets, a riveting tool is needed to attach the rivets. Riveting tools for manual assembly or for different presses of two-piece rapid rivets or one-piece tubular rivets are also available in our online shop.
| | | |
| --- | --- | --- |
| | | |
| punch the folder | fasten the rivets | finished |