Welcome to our online shop
buchbindermeister24.de
... Browse and shop around the clock.
This online shop was created to inspire and support your own creativity. Many years of work experience as master bookbinder guaranty you reliable service and qualitative products.
Our extensive product range offers you:
- Bookbinding and Printing supplies
- Industrial and office supplies
- Hobby supplies
- Craft materials
- Point of sale display
and many
more ...
We appreciate your interest and your visit
on the following pages!
News
Sample hangers made of plastic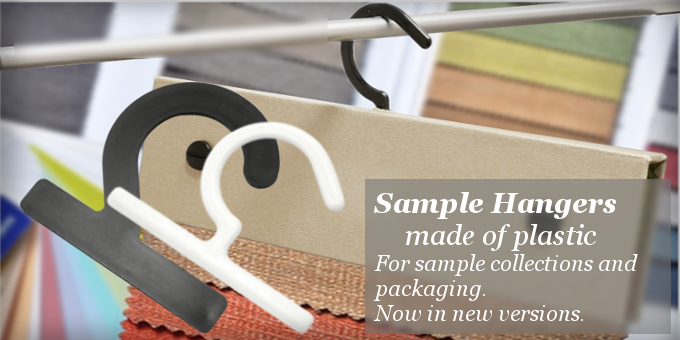 From now on we offer plastic sample hangers in two new versions. These sample hangers are ideal for fitting sample collections or product packaging with a handy suspension. They are also an inexpensive alternative to our rotating sample hangers and metal sample hangers.
In summary, plastic sample hangers offer the following advantages:
- Handy hanger for sample collections and product packaging
- Version for light and heavy sample collections
- Cost effective alternative to other sample hangers
Sample collections are bound product samples and are intended to familiarize the customer with the different product versions. They can be used to present various fabrics, floor coverings or other materials. For example the different cover fabrics of a furniture are presented from which the customer can choose. Sample collections are therefore often found in furniture stores, DIY stores or at interior decorators.
If sample collections are not needed it makes sense to hang them up in order to store them neatly and every time ready to hand. Here are our sample hangers for sample collections used.
We have plastic and metal sample hangers in our range for some time. We have now extended this range for you. The new sample hangers are available in two different versions and in the colours black and white. The smaller and more subtle version is ideal for smaller and lighter sample collections such as fabrics and other light materials. The larger and stronger hooks are more suitable for larger and heavier sample collections such as carpet patterns.
| | | |
| --- | --- | --- |
| | | |
| Hanger for sample collections | Hanger for heavy product packaging | Hanger for light product packaging |
Assembly of sample hangers
The assembly of sample hangers is extremely simple: The pattern hanger or the product packaging must be punched only once with the diameter of the hook. The sample hanger can then simply be pushed from the inside through the perforation.
| | | |
| --- | --- | --- |
| | | |
| punch a hole into the hanger | put the hook trough the hole | finished! |