Welcome to our online shop
buchbindermeister24.de
... Browse and shop around the clock.
This online shop was created to inspire and support your own creativity. Many years of work experience as master bookbinder guaranty you reliable service and qualitative products.
Our extensive product range offers you:
- Bookbinding and Printing supplies
- Industrial and office supplies
- Hobby supplies
- Craft materials
- Point of sale display
and many
more ...
We appreciate your interest and your visit
on the following pages!
News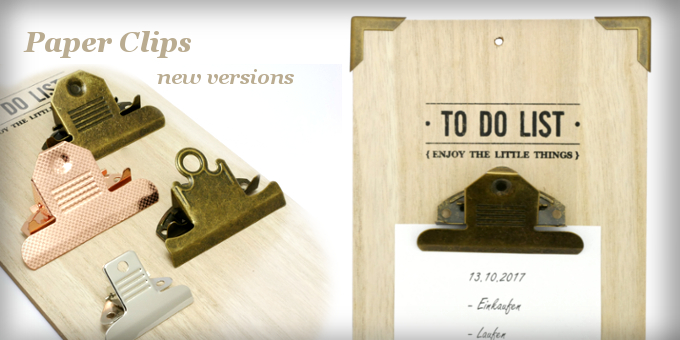 Paper clips are also available now in antique brass and copper-plated
We have expanded our range for you. We have now a new paper clip with a width of just 50 mm and medium size paper clips with a width of 85 mm, both in brass antique as well as copper.
Our popular paper clip "nostalgia" is also in antique brass in stock for you now.
Paper clips offer the following advantages:
- Easy clamping of unperforated sheets, pictures or photos
- additional suspension option
Paper clips allow the clamping of loose, unperforated sheets.
They are therefore ideally suited for attaching papers to clipboards, table tops or information boards. But even on machines or for example shelves can sheets be easily fixed with the help of a paper clip.
Wherever unperforated sheets need to be regularly replaced or supplemented, paper clips are the best choice.
Buchbindermeister24 has always offered you a wide range of different paper clips. We have expanded this range for you as follows.
The new paper clip with a width of just 50 mm is particularly elegant and is therefore ideally suited for small clamping boards or table stands. Due to the small size, the clamping force is a little bit lower than other models. The 50 mm width paper clip is therefore more used for individual sheets as for example menu cards.
The new paper clips with a width of 85 mm are available in copper-plated and antique brass. These two surfaces are particularly well suited for the production of decorative clipboards, which can be used to attach pictures or photos.
In addition, our popular "nostalgia" paper clip is now also available with the surface antique brass.
Paper clips have two mounting holes. Therefore, you can attach a paper clip to a clipboard or any other object using rivets or screws (the matching rivets are also available in our shop).
To do this, place the paper clip on the desired location on the clipboard and mark the two mounting holes.
Now drill through the indicated holes. After that the paper clip can be mounted, for example, with double rivets. We recommend using our riveting tool
s.